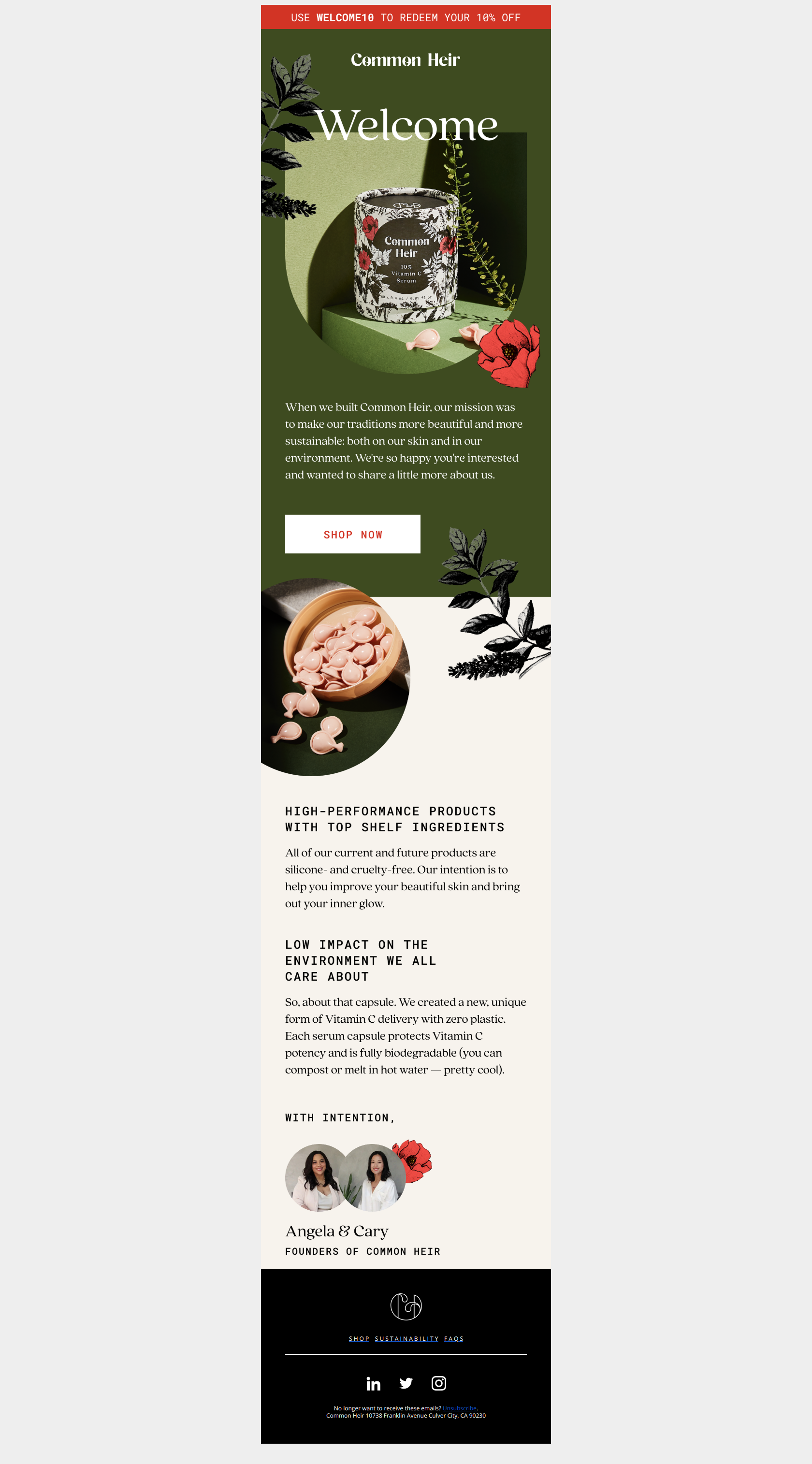 Newsletter Subject
Welcome to Common Heir
Common Heir Newsletter Content
👋🏻 The email, titled "Welcome to Common Heir," captivates recipients with a visually appealing image and compelling content.
👋🏻 The email begins with a warm welcome, inviting readers to embark on a journey into the world of Common Heir's exquisite heirloom pieces.
👋🏻 It highlights the brand's commitment to craftsmanship and the timeless elegance that its jewelry represents.
👋🏻 It emphasizes the brand's dedication to sourcing ethically and using high-quality materials for crafting their heirloom jewelry. This commitment ensures that each piece is not only stunning but also holds sentimental value for generations to come.
👋🏻 Then, it showcases Common Heir's love for storytelling. It describes how each piece of jewelry carries a unique history, serving as a tangible connection to the past.
👋🏻 Furthermore, the email offers a glimpse into Common Heir's exclusive community. It describes how becoming a part of the Common Heir family allows access to limited-edition collections and insider privileges. This adds an element of exclusivity, enticing readers to engage further with the brand.
👋🏻 Common Heir's email masterfully combines stunning visuals to captivate the reader's attention and evoke a sense of curiosity.
👋🏻 With their welcoming tone and emphasis on craftsmanship, storytelling, and exclusivity, the email successfully entices recipients to embark on a journey into the world of Common Heir.