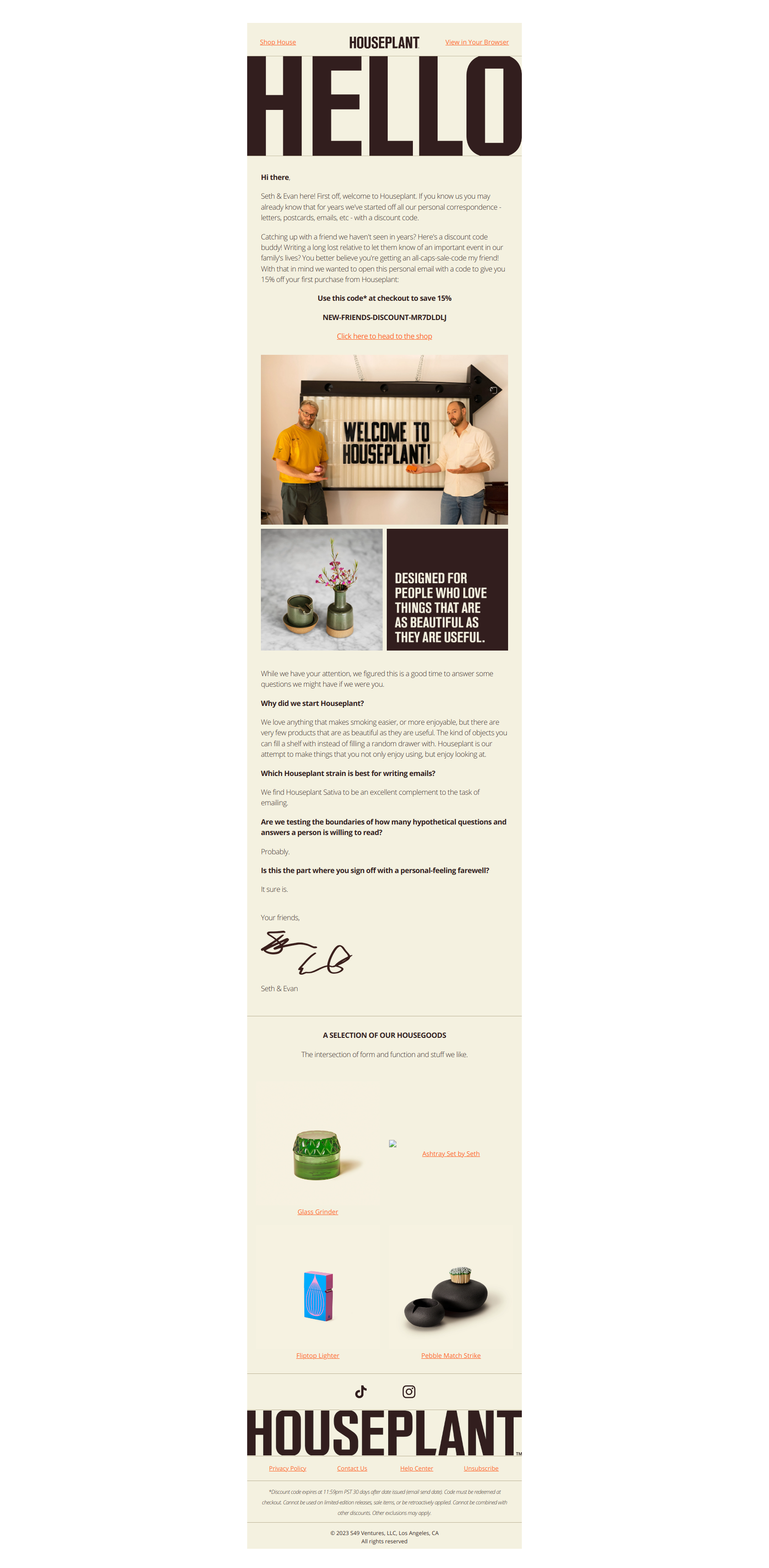 Newsletter Subject
A message from Seth Rogen & Evan Goldberg
HOUSEPLANT Newsletter Content
🪴 Discover the dynamic world of HOUSEPLANT, as Seth Rogen and Evan Goldberg extend a warm invitation through their latest email. With their signature wit and enthusiasm, Seth and Evan take you on a journey into the heart of their cannabis brand.
🪴 The email highlights various exciting features of HOUSEPLANT products, demonstrating the brand's commitment to quality and creativity. It showcases their unique Housegoods collection, including stylish ashtrays and lighters designed to elevate your smoking experience.
🪴 Through this email, Seth and Evan emphasize the brand's dedication to sustainability, showcasing their limited-edition Sativa and Indica strains, crafted with care and nurtured to perfection. They express their excitement for the upcoming launch of their HOUSEPLANT Hash, promising a product that is both innovative and exceptional in taste.
🪴 Furthermore, the email celebrates the HOUSEPLANT x National Expungement Week partnership, highlighting their commitment to social justice and reform. Seth and Evan encourage recipients to join them in supporting this important cause, amplifying their voice and commitment to making a positive impact in cannabis culture.
🪴 By the end of the email, Seth and Evan express their gratitude for the recipient's support and enthusiasm for HOUSEPLANT. They invite readers to explore the official website and immerse themselves in the HOUSEPLANT community, promising future updates and exciting announcements.
🪴 Overall, this lively email from Seth Rogen and Evan Goldberg serves as an enticing introduction to the world of HOUSEPLANT, offering readers an exclusive glimpse into the brand's unique offerings, passion for sustainability, and dedication to social causes.