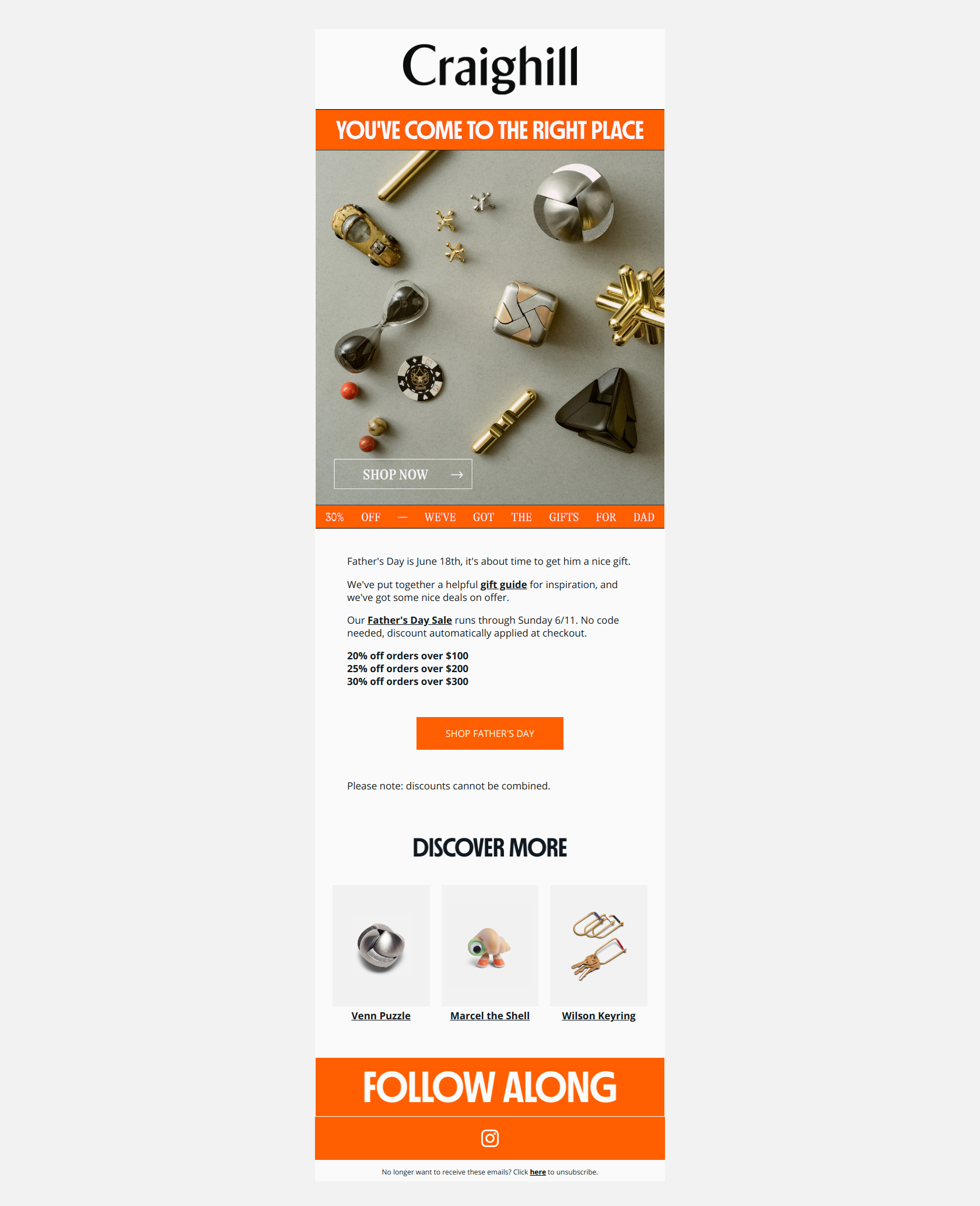 Newsletter Subject
Hey Dad, I got you something cool
Craighill Newsletter Content
🎁 Craighill, a renowned brand specializing in unique and thoughtfully designed products, introduces a delightful surprise in their latest email titled "Hey Dad, I got you something cool."
🎁 The email content begins with an engaging headline that immediately piques the reader's curiosity. Within the email, Craighill showcases an exquisite range of products that make for the perfect gift for any discerning dad.
🎁 Through attention-grabbing tags, the text eloquently describes each item, revealing its exceptional features and quality craftsmanship. The email unveils a remarkable collection of Dad-approved gifts, carefully curated to cater to diverse tastes and preferences.
🎁 From elegantly crafted keyring organizers to stylish writing tools and sophisticated home decor, Craighill covers a wide spectrum to ensure every dad finds something cool and unique.
🎁 Furthermore, the text succinctly elaborates on the meticulous details that set Craighill apart. Each product is a testament to the brand's commitment to design and functionality, boasting innovative features and premium materials.
🎁 In addition to the product descriptions, the email emphasizes the exceptional value of gifting a Craighill item to fathers on special occasions such as birthdays, anniversaries, or Father's Day. The tags paint a picture of heartfelt appreciation and deepening connections through these timeless creations.
🎁 Craighill's email, inspired by the desire to honor fathers, successfully captures the essence of their brand. By offering a diverse range of meticulously crafted, unique gifts, the content serves as an enticing invitation for readers to explore the world of Craighill and find that perfect something for their extraordinary dads.