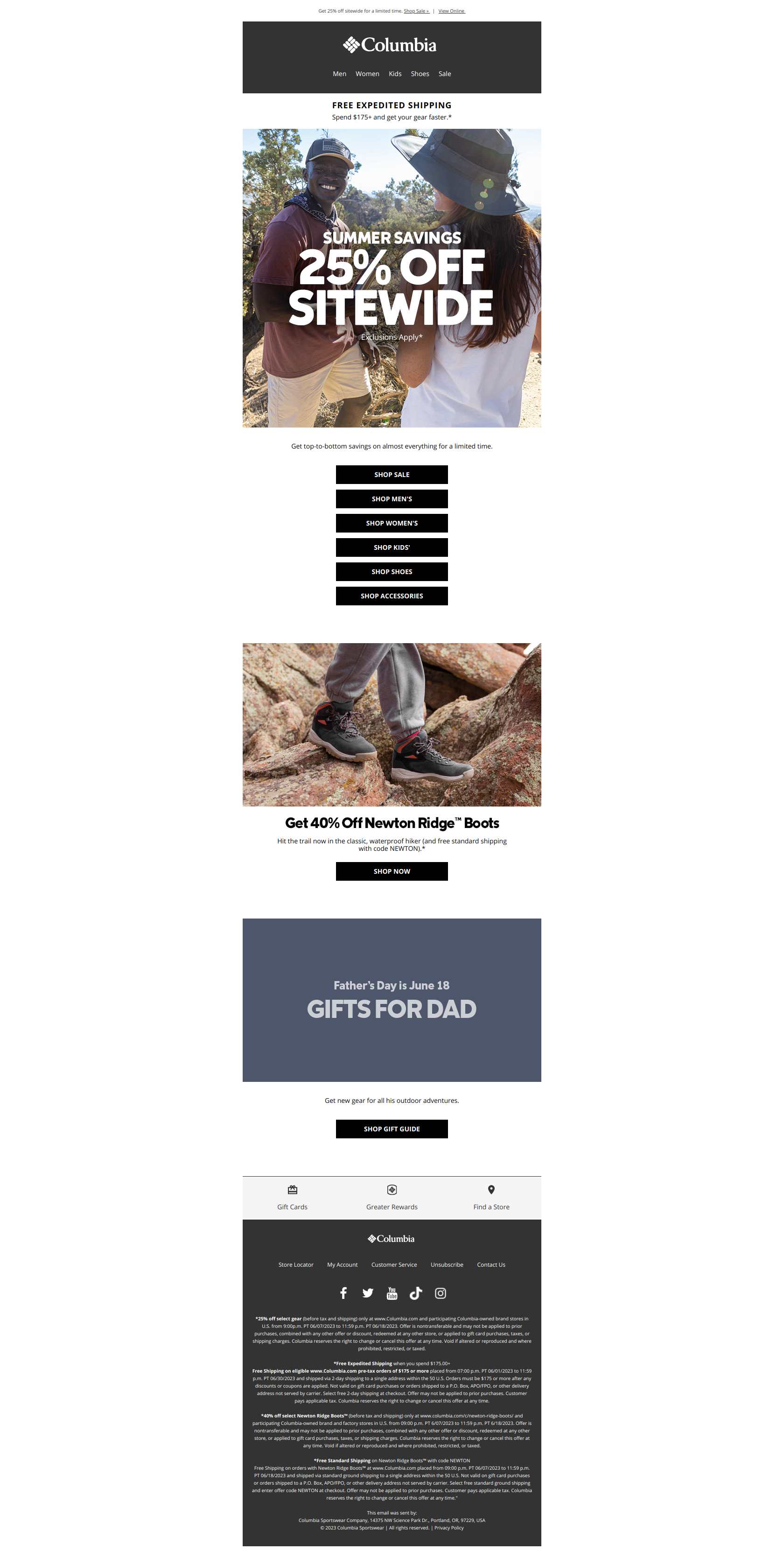 Newsletter Subject
Summer savings start NOW!
Columbia Sportswear Newsletter Content
⛱️ With the arrival of summer, Columbia Sportswear kicks off its summer savings campaign, bringing you incredible discounts and deals to enhance your warm-weather adventures.
⛱️ The latest newsletter showcases a wide range of products and enticing offers, perfect for both outdoor enthusiasts and casual explorers alike. The email begins by highlighting the exciting news: Summer savings are now in full swing! Columbia Sportswear is dedicated to providing top-quality gear and apparel for all your outdoor escapades, and this season is no exception.
⛱️ Prepare to enjoy significant discounts on a diverse selection of products tailored to meet your summer needs. Whether you're planning a hiking excursion, a camping trip by the lake, or simply looking to upgrade your everyday wardrobe, Columbia Sportswear has you covered.
⛱️ Take advantage of special deals on their high-performance hiking shoes, breathable and moisture-wicking t-shirts, and durable camping gear. With their commitment to delivering products that combine functionality with innovation, Columbia Sportswear ensures that you can fully immerse yourself in nature's wonders while feeling comfortable and stylish.
⛱️ Furthermore, the email highlights the variety of sizes and styles available, emphasizing that there is something for everyone in the summer savings collection. From men's and women's apparel to accessories for kids, Columbia Sportswear aims to cater to the entire family's outdoor needs.
⛱️ Gear up for long hikes or relax by the beach with their extensive range of options, each designed with the brand's renowned craftsmanship and attention to detail. To make the shopping experience even more convenient, the email introduces their easy-to-navigate website, allowing you to browse through the summer catalog effortlessly.