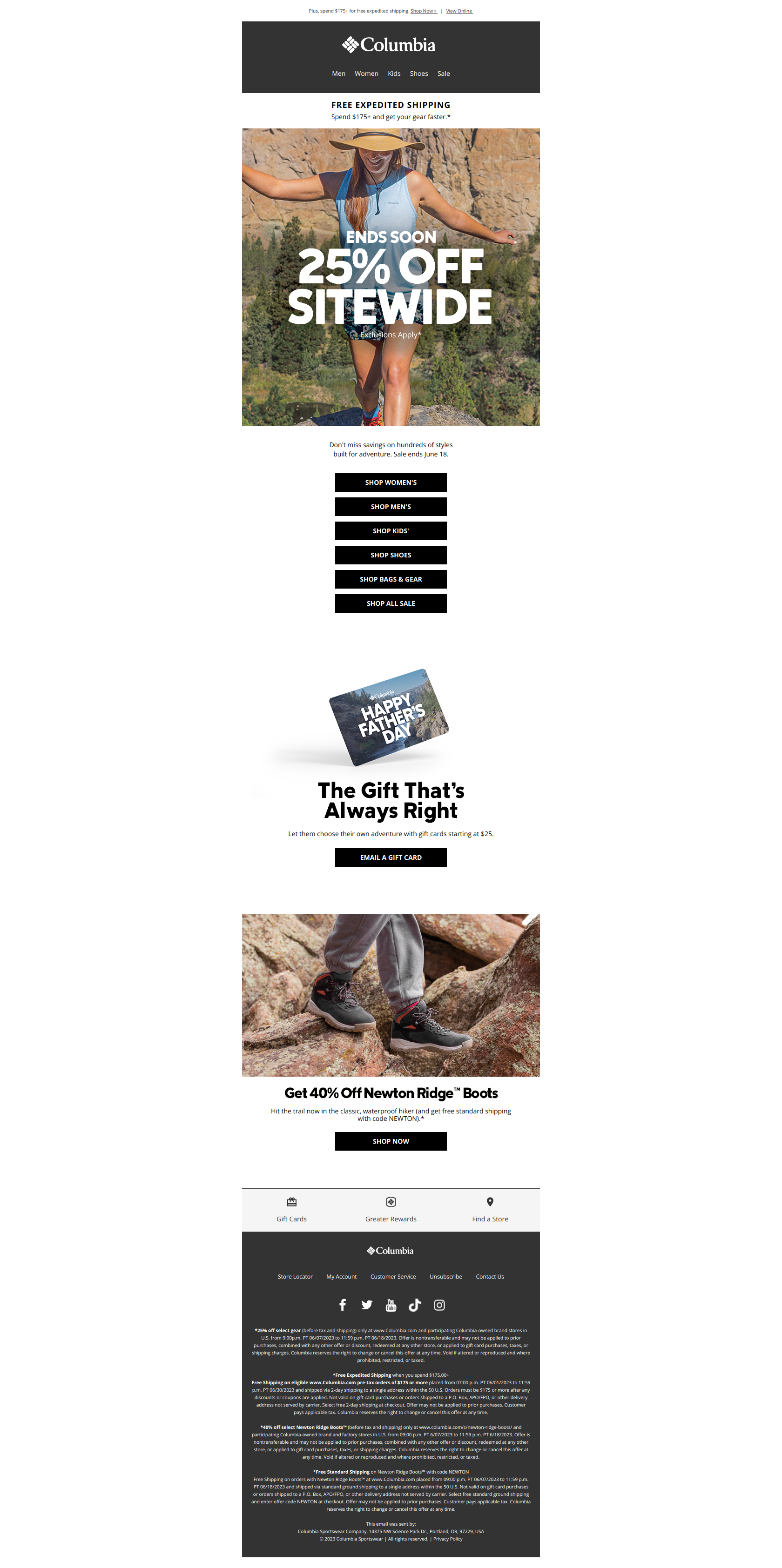 Newsletter Subject
Time is running out for 25% off sitewide! ⏰
Columbia Sportswear Newsletter Content
⏰ In this thrilling email, Columbia Sportswear has crafted a captivating message to entice readers. The email begins with an attention-grabbing subject line: "Time is running out for 25% off sitewide! ⏰" This sense of urgency sets the tone for the entire email, immediately capturing the reader's interest.
⏰ Upon opening the email, readers are greeted with a visually appealing layout and high-resolution images that showcase Columbia Sportswear's exceptional products. A bold headline at the top reinforces the central offer: "25% off sitewide!" This prominent call-to-action makes it clear that this deal will not be missed.
⏰ The body of the email is cleverly divided into different sections, each highlighting specific product categories. Columbia Sportswear has you covered whether you need outerwear, footwear, accessories, or sports equipment.
⏰ Each section showcases a variety of carefully selected items, accompanied by brief descriptions and attractive visuals. Furthermore, readers are reminded throughout the email that time is of the essence. The ticking countdown clock is a constant reminder that this incredible discount will soon end.
⏰ To create a sense of exclusivity, the email promotes the offer as a limited-time opportunity, urging readers to take advantage before it's too late. In summary, Columbia Sportswear's email campaign effectively informs readers about their time-sensitive 25% off sitewide offer.
⏰ The engaging visuals, compelling descriptions, and the ticking countdown clock create a sense of urgency, enticing readers to purchase now.