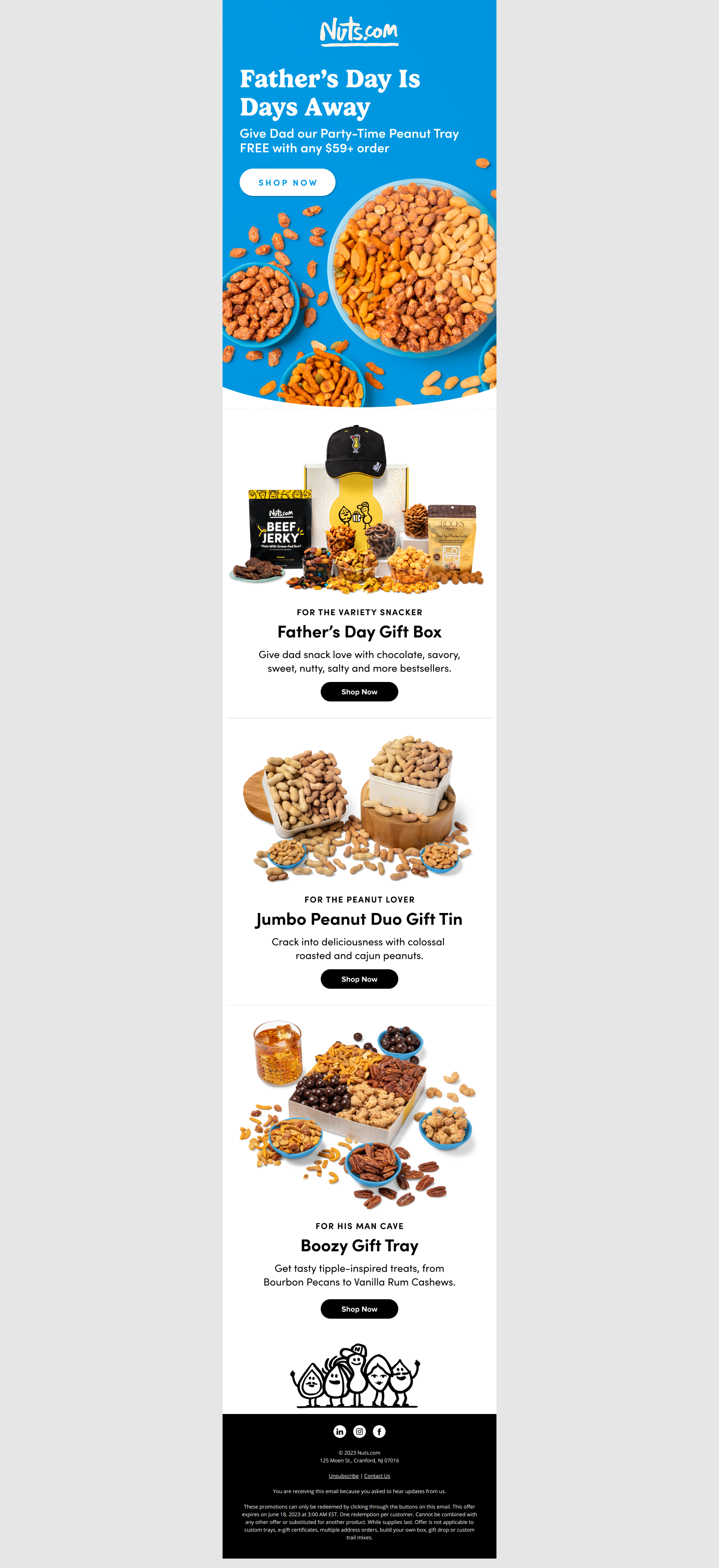 Newsletter Subject
The Countdown To Father's Day Is On ⏰
Nuts.com Newsletter Content
⏰ The countdown to Father's Day has begun, and Nuts.com is here to help you celebrate in style.
⏰ In an email titled "The Countdown To Father's Day Is On ⏰," Nuts.com entices readers with a range of tempting treats and gifts suitable for every dad out there. Opening the email, you are greeted with a vibrant image of mouthwatering nuts and snacks, setting a delicious tone for the offerings to follow.
⏰ The email is filled with enticing deals and unique goodies that are sure to make Father's Day extra special. One paragraph highlights the "Most Wanted" section, featuring an assortment of delectable nuts, dried fruits, and chocolates.
⏰ These delectable treats are perfect for dads who crave a mix of sweet and savory flavors. Whether he prefers salted cashews or chocolate-covered strawberries, Nuts.com has you covered with high-quality options.
⏰ Another paragraph emphasizes the "Gifts for the Grill Master" selection. It showcases various BBQ essentials such as rubs, marinades, and even grilling tools. For dads who love to fire up the grill and savor mouthwatering flavors, these gifts are a must-have to elevate their grilling game.
⏰ The third paragraph describes the "Snack Time Favorites" section, which offers a variety of snack options perfect for dads who enjoy munching between meals. Nuts.com ensures a satisfying snacking experience for these dads, from crunchy pretzels to flavorful popcorn.
⏰ Finally, the email wraps up with a reminder to place orders ahead of time to ensure timely delivery for Father's Day. It emphasizes Nuts.com's commitment to providing excellent customer service and ensuring that dads receive their treats on their special day.
⏰ Overall, Nuts.com's Father's Day email entices readers with a delightful array of treats and gifts that any dad would appreciate. The email's vibrant imagery and enticing descriptions make it impossible to resist treating your dad to something special from Nuts.com this Father's Day.