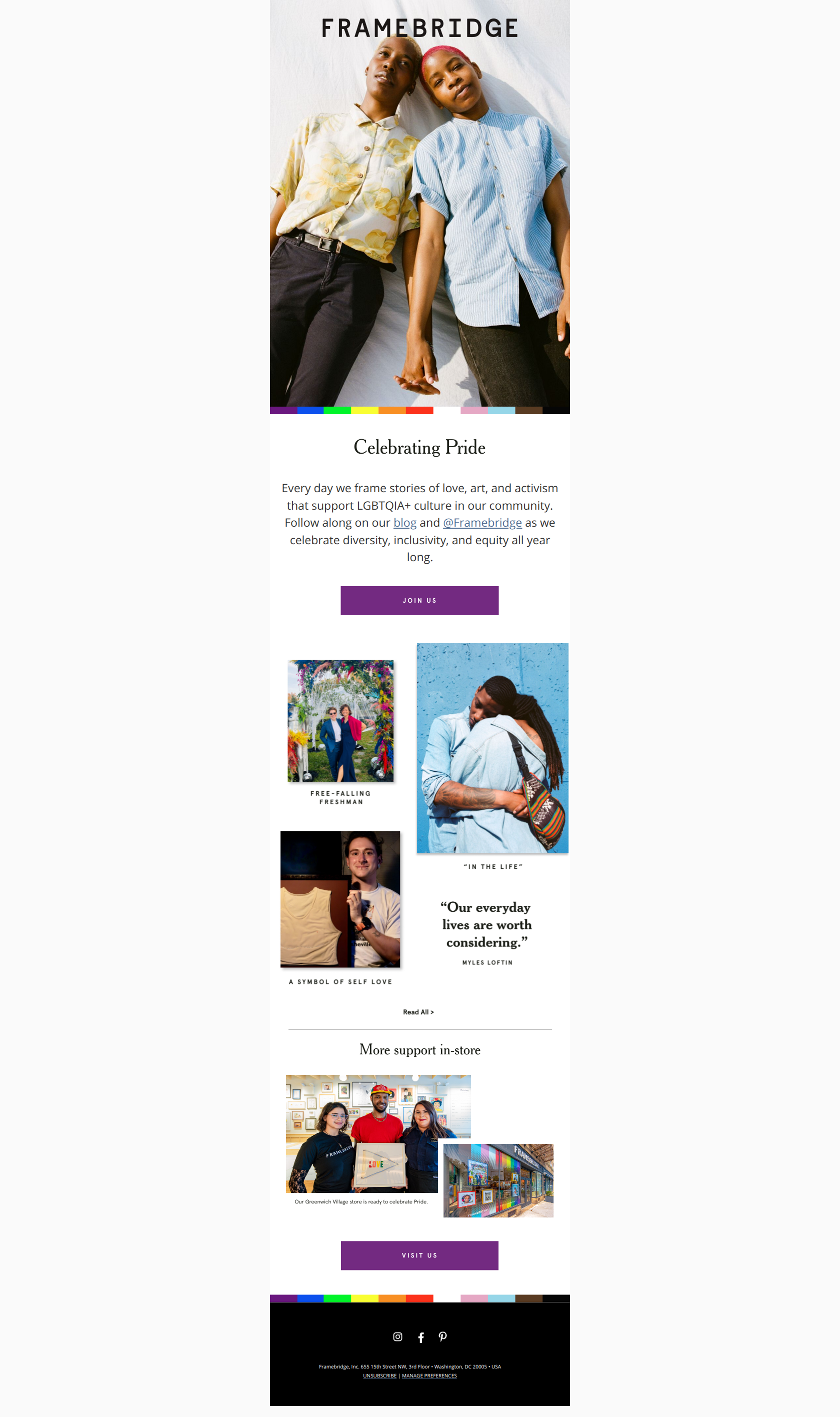 Newsletter Subject
Pride 🏳️‍🌈
Framebridge Newsletter Content
Framebridge, the renowned online custom framing service, is proud to present its latest newsletter, brimming with captivating content that celebrates the spirit of Pride 🏳️‍🌈.
🏳️‍🌈 In this enlightening email, you'll discover a myriad of inclusive stories, exciting initiatives, and heartfelt messages that honor the LGBTQ+ community.
🏳️‍🌈 The newsletter begins with a powerful tag text, offering a warm welcome and expressing how thrilled Framebridge is to commemorate Pride Month. It sets the tone for the rest of the email, promising a collection of thought-provoking and inspiring content.
🏳️‍🌈 As you scroll further, you'll encounter diverse narratives exemplifying the boundless love and vibrant lives within the LGBTQ+ community. Through beautifully curated tag texts, the email unveils heartfelt stories of LGBTQ+ individuals who have faced various challenges, overcome adversity, and emerged stronger.
🏳️‍🌈 These narratives highlight the importance of inclusivity, acceptance, and support, fostering a sense of unity and understanding. Embracing the true essence of Pride, Framebridge has collaborated with LGBTQ+ artists, photographers, and advocates to showcase their exceptional artwork and capture the essence of LGBTQ+ representation.
🏳️‍🌈 To amplify its commitment to inclusivity and equality, Framebridge introduces its partnership with organizations that champion LGBTQ+ rights and social change.
🏳️‍🌈 By aligning with these influential entities, Framebridge aims to uplift the LGBTQ+ community and contribute to a more equal world. The email also features a variety of Pride-themed products offered by Framebridge, showcasing their dedication to providing customers with unique and personalized options for their framing needs.
🏳️‍🌈 By doing so, Framebridge continues to pave the way towards fostering inclusivity and acceptance, making a positive impact within the LGBTQ+ community and beyond.