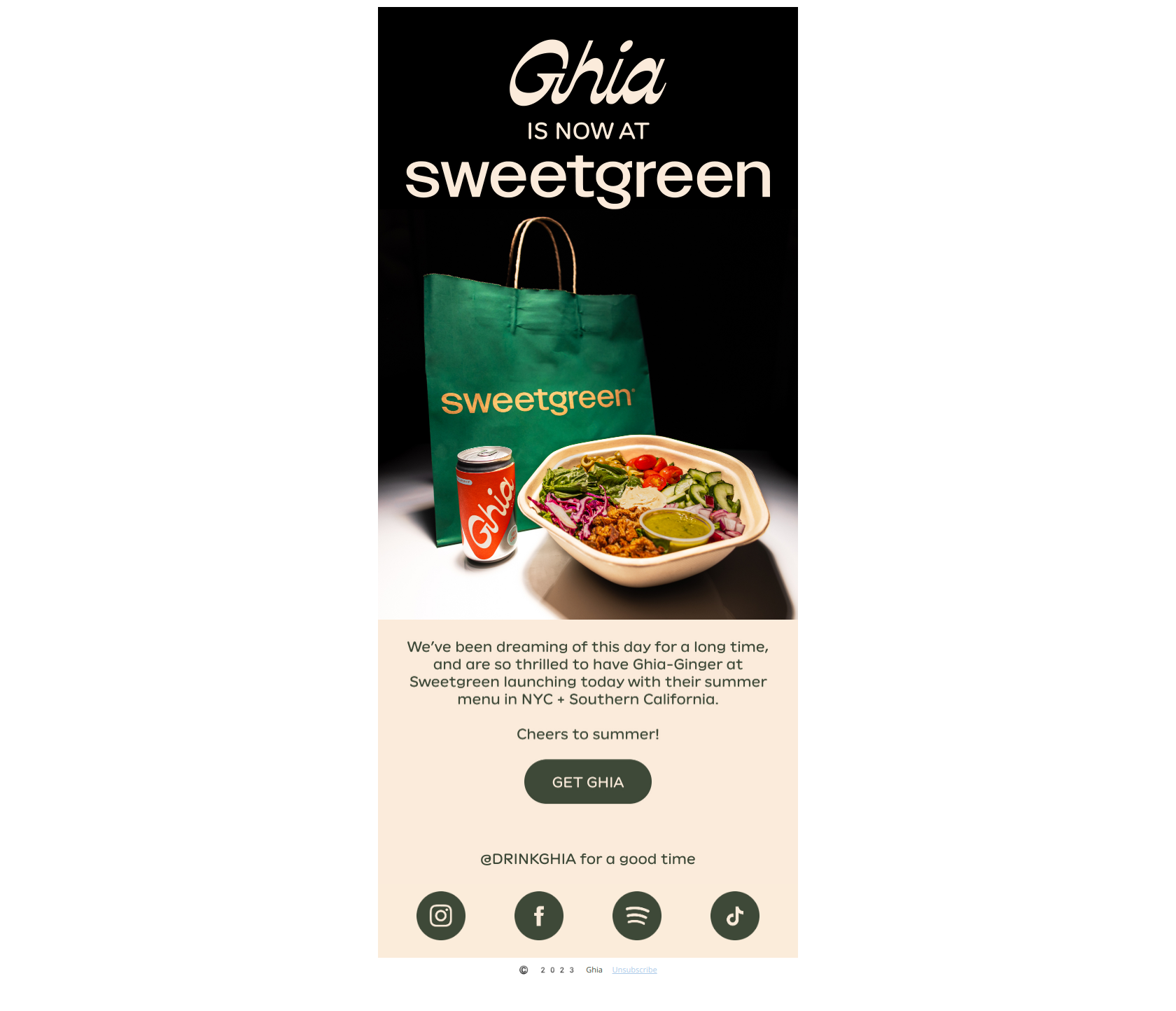 Newsletter Subject
We're at Sweetgreen!
Ghia Newsletter Content
🧃 The "We're at Sweetgreen!" email provides delightful information about Ghia's presence at Sweetgreen, a popular chain of healthy food restaurants. The email starts with a bold heading that welcomes the recipient to the Ghia family and introduces the thrilling opportunity to find Ghia at Sweetgreen locations.
🧃 The message strives to engage the reader by providing a brief overview of Ghia and its mission to unite people through mindful drinking experiences. With a focus on natural ingredients and a commitment to sustainability, Ghia offers a unique choice for those seeking alcohol-free beverages.
🧃 The email highlights the collaboration between Ghia and Sweetgreen, emphasizing the shared values and desire to enhance customers' culinary experiences. It describes how Ghia fits perfectly into Sweetgreen's commitment to offering delicious and healthy alternatives.
🧃 By adding Ghia to its menu, Sweetgreen aims to provide its customers a refreshing and sophisticated non-alcoholic option. In addition, the email showcases the exciting flavors and aromas of Ghia.
🧃 It tempts readers with a tantalizing description of Ghia's botanical complexity, mentioning rosemary, mint, and citrus notes. The email invites readers to pair Ghia's unique taste with Sweetgreen's nutritious and flavorful meals, presenting an enticing combination for health-conscious individuals.
🧃 To make it even more appealing, the email assures the readers that they can enjoy Ghia at their nearest Sweetgreen location.
🧃By including Ghia as a thoughtful option on Sweetgreen's menu, individuals looking for an elevated and guilt-free dining experience can savor Ghia's delicious and refreshing flavors.
🧃Overall, Ghia's "We're at Sweetgreen!" email provides an engaging introduction to the collaboration between Ghia and Sweetgreen. It invites readers to explore Ghia's natural and sophisticated non-alcoholic aperitif, showcasing their commitment to enhancing mindful and enjoyable drinking occasions.
🧃 With Ghia now available at Sweetgreen, individuals can embark on a flavorful journey that perfectly complements the healthy and wholesome offerings of the popular restaurant chain.