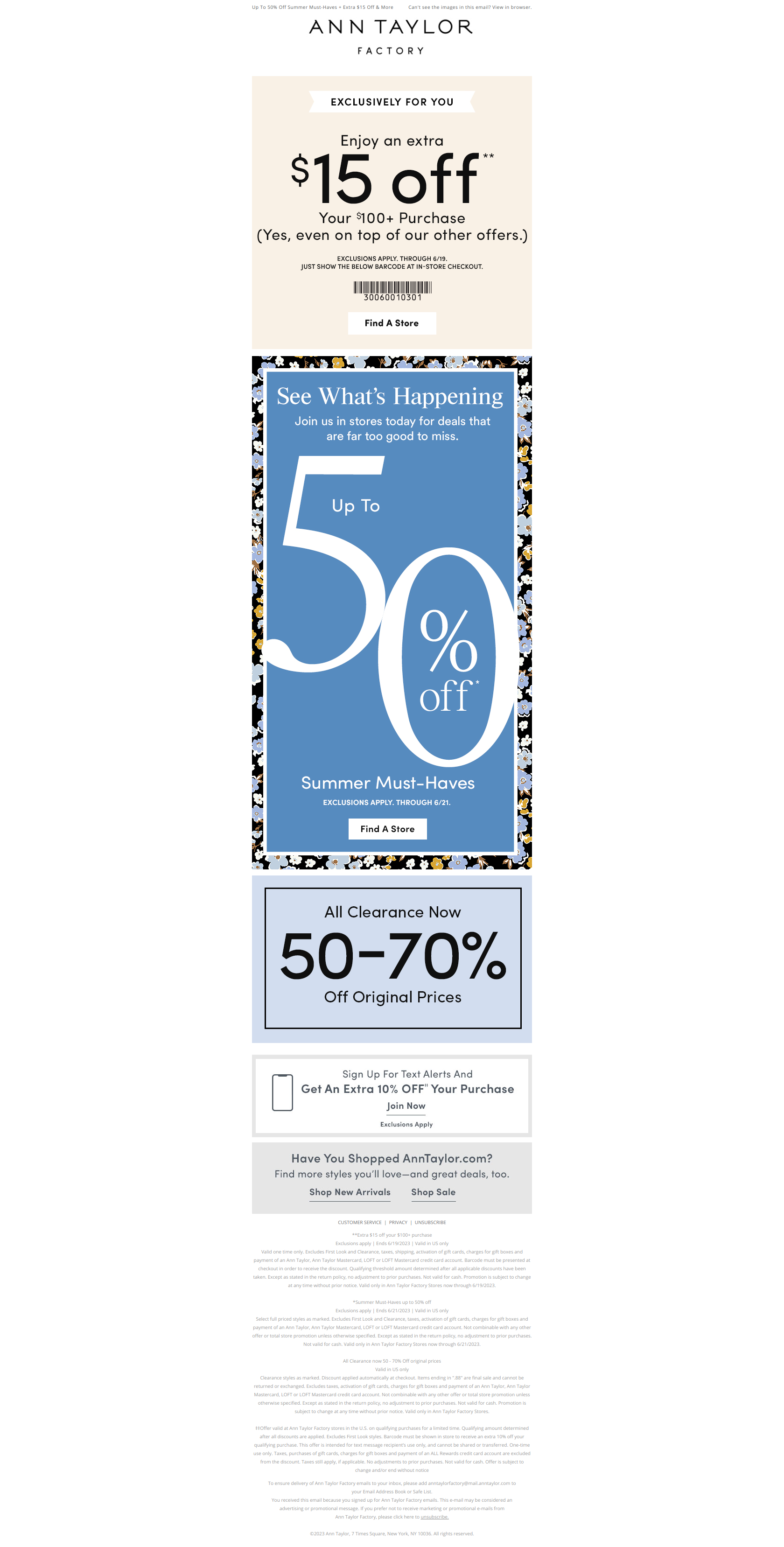 Newsletter Subject
Join Us This Weekend For Deals We Know You'll Love…
Ann Taylor Factory Newsletter Content
🫶🏻 The email content begins with a striking image featuring a stylish woman wearing one of Ann Taylor Factory's fashionable outfits, along with the text "Join Us This Weekend For Deals We Know You'll Love..." This sets the tone for an exciting shopping experience.
🫶🏻 As you scroll down, you will find a well-designed email layout that provides more details about the upcoming event. The first paragraph states, "Extra savings are waiting for you at Ann Taylor Factory this weekend." This implies that customers can anticipate great discounts and special offers for a limited time.
🫶🏻 The next paragraph emphasizes the opportunity to refresh your wardrobe with the latest trends by mentioning that "everything is on sale." It further mentions that "dresses, tops, pants, and more" will be available at attractive prices. This entices the reader with the promise of various fashionable options.
🫶🏻 The email content also includes details about deals catering to shopping preferences. The email highlights a special online-only offer for those who prefer to shop online, encouraging readers to "shop online with code EXTRA20." This provides a sense of exclusivity and convenience for those who prefer to browse and make purchases from the comfort of their own homes.
🫶🏻 Furthermore, the email emphasizes the importance of taking advantage of this limited-time opportunity by including a countdown clock. The text next to the clock states, "Don't miss out!" This creates a sense of urgency, urging readers to act quickly before the enticing deals expire.
🫶🏻 In summary, the email content from Ann Taylor Factory enthusiastically introduces an upcoming weekend event filled with irresistible deals. The text emphasizes the availability of extra savings, a wide range of fashionable items, and the convenience of online shopping.
🫶🏻 With a sense of urgency created by the countdown clock, customers are encouraged to seize this opportunity to upgrade their wardrobe with stylish pieces from Ann Taylor Factory.