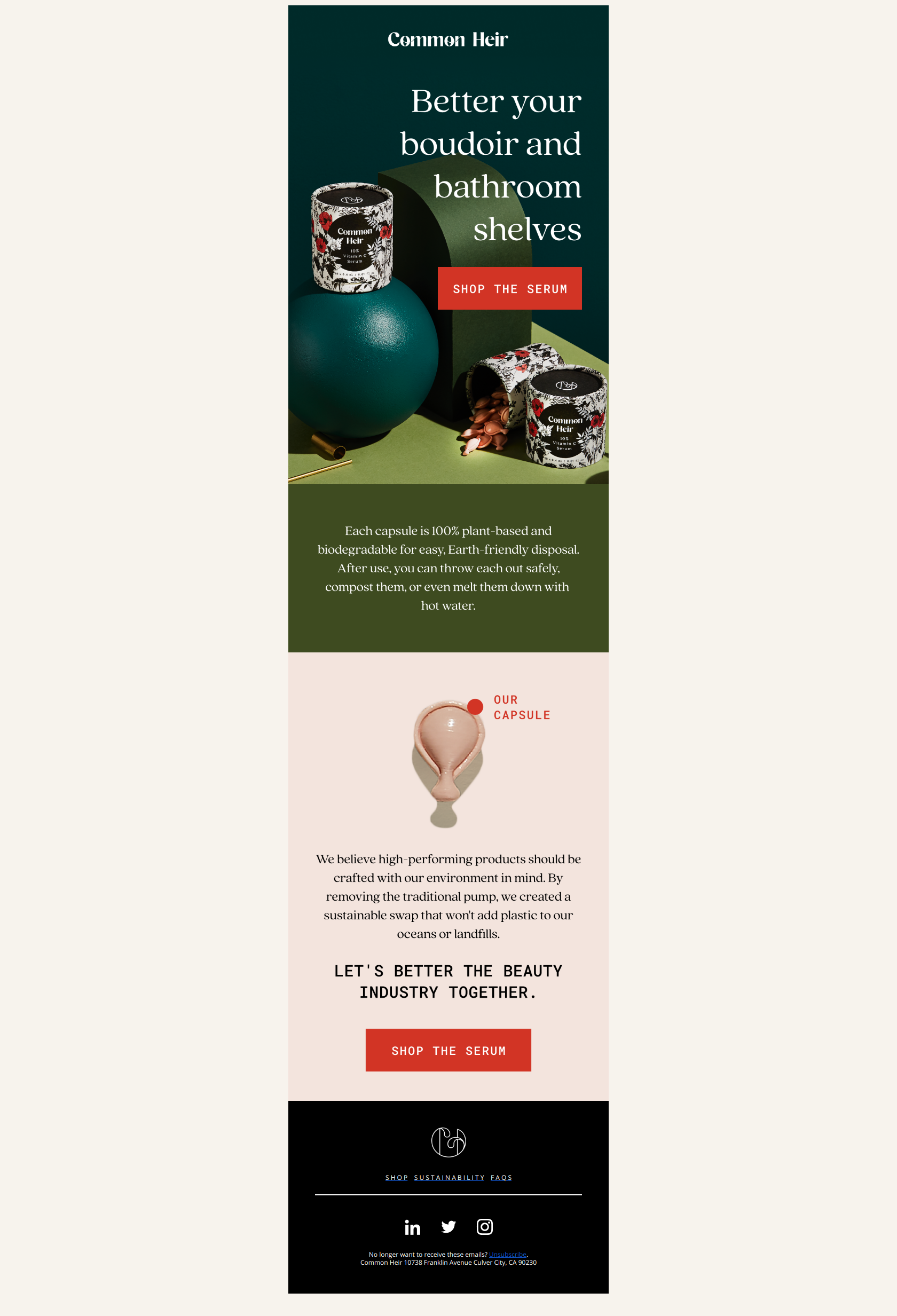 Newsletter Subject
Maximum effects, minimal waste
Common Heir Newsletter Content
♻️ Common Heir, a renowned sustainable fashion brand, leaves no stone unturned when it comes to making a positive impact on the environment. Their latest email newsletter, with the title "Maximum effects, minimal waste," focuses on their commitment to reducing waste while maximizing the positive effects of their products.
♻️ The newsletter begins with an eye-catching image that perfectly encapsulates the brand's ethos. It showcases a group of passionate artisans handcrafting exquisite garments, showcasing the brand's dedication to timeless craftsmanship.
♻️  Beneath the image, the text urges readers to embrace mindful consumption and invites them to explore Common Heir's latest collection, which is thoughtfully created to have maximum effects on both style and sustainability. As readers scroll further down, they discover an insightful article about the brand's journey towards minimal waste.
♻️ Engaging tags' texts recount how Common Heir meticulously designs their products to minimize waste at every stage of the production process. Whether it's sourcing eco-friendly materials or implementing innovative manufacturing techniques, the text highlights how Common Heir's designs are rooted in sustainability. Furthermore, the newsletter features a section titled "Sustainable Styling Tips."
♻️  Within this section, readers can find useful suggestions on how to style Common Heir's garments in various ways, promoting versatility and reducing the need for excessive consumption. The text encourages readers to get creative with their wardrobe choices, providing them with inspiration to make the most out of their Common Heir pieces. To further engage their audience, Common Heir includes a short interview with one of their loyal customers who shares their personal experience with the brand.
♻️ This genuine account reinforces the brand's credibility and resonates with readers who value authenticity and transparency in their purchasing decisions.