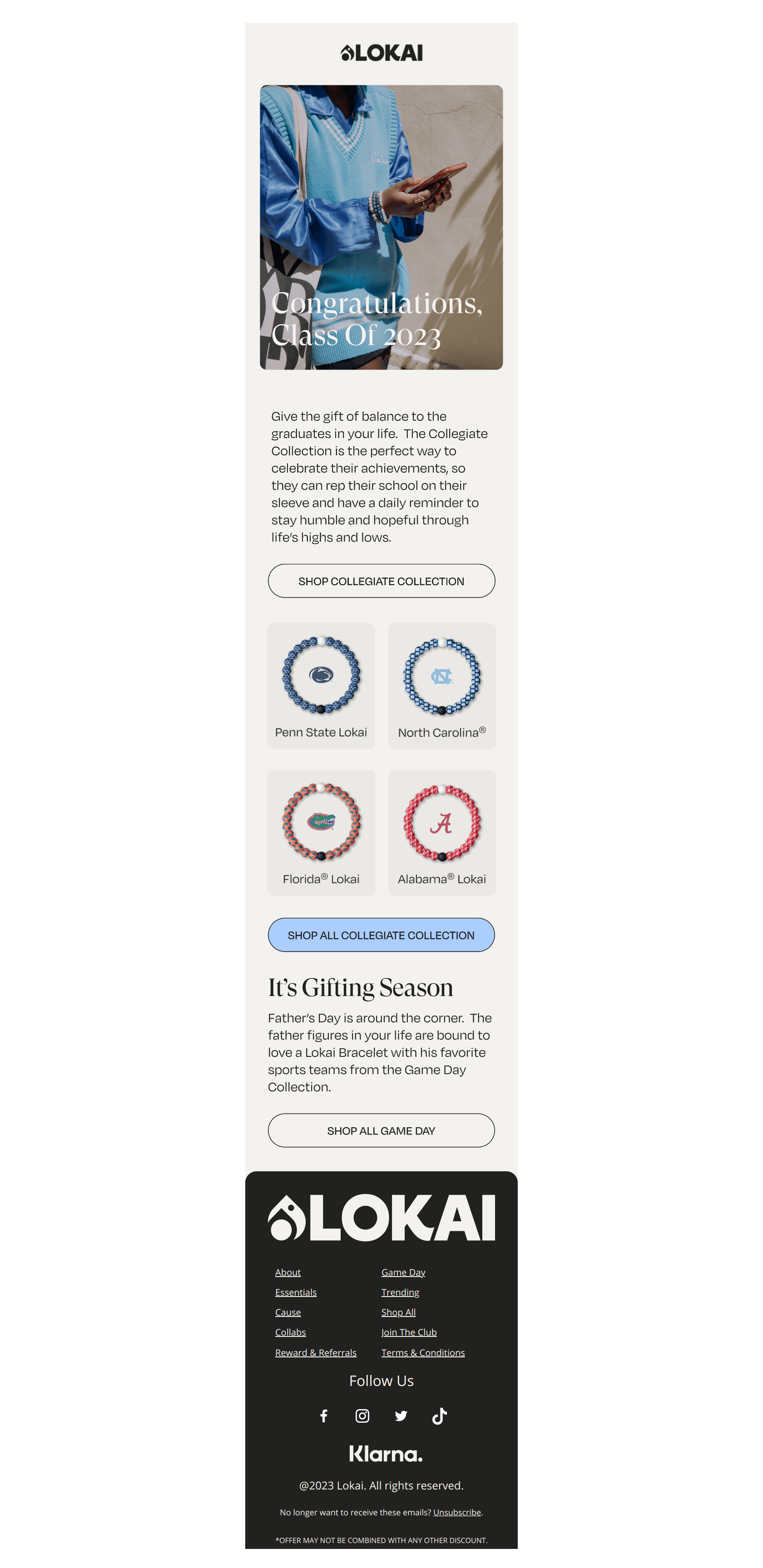 Newsletter Subject
Congrats, Class of '23 🎓
Lokai Newsletter Content
The email content from Congrats, Class of '23 🎓 is centered around celebrating the recipients' academic achievements, while also introducing a special offer from Lokai.
🎓 As a token of appreciation, the email acknowledges the hard work and dedication put forth by the graduating class of 2023. The email begins by extending congratulations to the class for successfully completing their educational journey.
🎓 It recognizes this milestone's significance and highlights the graduates' resilience and determination. The email adopts a cheerful and congratulatory tone to convey the excitement surrounding the accomplishment.
🎓Amidst the celebration, the email introduces Lokai, a brand that believes in finding balance in life's highs and lows. It highlights a special offer exclusive to the graduating class, inviting them to explore Lokai's meaningful and symbolic accessories collection.
🎓 The email emphasizes that Lokai is more than just a brand, as it promotes the idea of staying humble during moments of success and hopeful during challenging times. Using tags, the email describes the unique attributes of Lokai, such as its iconic bracelets inspired by nature's elements.
🎓 Overall, the email creates a sense of pride and admiration for the recipients' achievements while presenting the opportunity to engage with Lokai's meaningful products. It serves as a heartfelt congratulations to the graduating class of 2023 and offers them a chance to celebrate their accomplishments with a brand that embodies the qualities of balance and resilience.